News Detail
Grab Free AUDcoins by Participating in Aussie Digital's Airdrop Program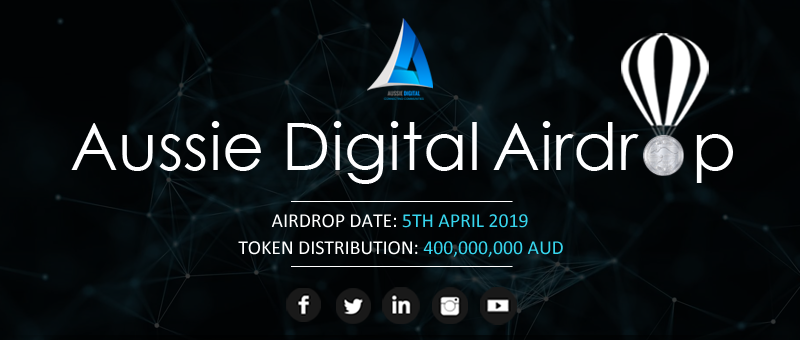 20 Mar 2019
At Aussie Digital, we are coming up with the idea of developing an ecosystem which could play a significant role in reshaping the arena of e-commerce industry with the help of cryptocurrency. The ecosystem will be created on blockchain technology and will have its own crypto coin named as "AUDcoin". This robust ecosystem encompasses various services including e-commerce platform (Tradezy), trading exchange (Tradedo), social media platform (Chatezy) and more.
We are glad to announce that we are going to launch Tradezy e-commerce platform on 20th May 2019. The platform has been specially designed for ease-of-use with security features to help small scale manufacturers, entrepreneurs and producers so that they can also introduce their business to online world and reach to the wider audiences. The platform will work on AUDcoins and offer various benefits to the users that include:-
Opening the doors of national and international markets for local and regional producers
Integration of blockchain
Cryptocurrency based payment system
Resolving the problem of lack of fund experienced by merchants
Low cost for sign up fees
Special benefits for AUDcoin token holders
Allowing for performance analysis for better marketing and promotion
Customer feedback review system
Round the clock promotion and customer service support
Before launching Tradezy e-commerce platform, we are starting our Airdrop program and distributing 400 million free AUDCoin to first 40, 000 sign-ups. The users can utilize these AUDcoins on the platform to avail beneficial services.
Be the Part of Aussie Digital Airdrop Program
If you are one of those who is interested to receive free AUDcoins in your wallet then just participate in Aussie Digital Airdrop program without any delay. You just need to follow some simple and easy steps to be part of our airdrop. First, you need to register your credentials and we will provide 5000 tokens instantly to the first 40K signups. Don't forget to join our Telegram group to get a chance to earn up to 1000 tokens by doing the following activities:
This way, you will be able to earn AUDCoins for free of cost and use them on our e-commerce platform to avail services and discounts.
Aussie Digital ICO is also going to launch soon. Key details are provided below:
ICO date: 27th May 2019
ICO Price: 1 Cent
Ticker: AUD
Total Supply: 4000, 000, 00 AUD
If you are interested to grab more information about Aussie Digital services, airdrop and ICO then visit our official website and read our Whitepaper.